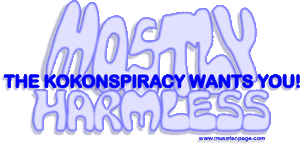 New pages
Welcome to the MuseBlog Wiki
The MuseBlog Wiki is the unofficial source for all things MuseBlog-related, which anyone can edit! (But it is not official, so the GAPAs won't let you talk about it on MB. Sorry.)
News
MuseBlog Wiki started on a whim by Yr. Obd't. Webmusester Piggy. (3 August 2009)
Selenium the Quafflebird finds the MuseBlog Wiki and creates the first article, which is about the Hare & Hedgepig. (27 March 2010)
Piggy sees a relative explosion in MBWiki activity and asks the masses for suggestions for and discussion about the site as a whole (go here). (29 March 2010)
Errata sees an extreme crash in MBWiki activity and wonders what to do about this. (27 July 2010)
Piggy suggests a public relations campaign. (27 July 2010)
MuseBlog
Born from the depths of the Gaboomba, MuseBlog is widely known as the world's most important intellectual project in history. From how life began to how life will be under the new world order, discussion on MuseBlog pertains to every topic under the sun, or any other star, for that matter. But the incomprehensible depth of knowledge about this underground juggernaut cannot be contained within the confines of the 'Blog itself. Hence was brought into existence this wiki, so that all aspects of MuseBlog can be taught to the unsuspecting world. Now go forth, and bring about the master plan.
Community content is available under
CC-BY-SA
unless otherwise noted.